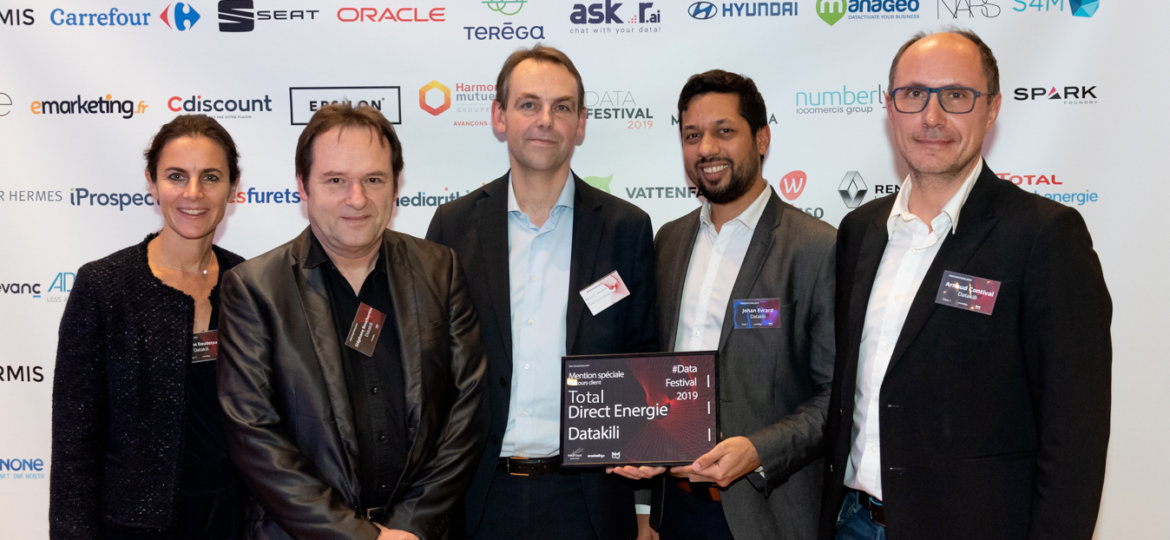 Total Direct Energie wins the « Customer Journey » award with datakili at Data Festival.
In order to improve its customer journeys, Total Direct Energie has wished to breakdown data silos of customers' interactions. datakili allows to visualize journeys with online and offline contacts, and to spot influent interactions on occurrences of calls, cancellations and house moves.
Thanks to datakili exploitation, Total Direct Energie aspires to reduce churn and call volume in a range of 2 million Euros.
After a POC time, now datakili is in production and used by different professions (Marketing, Customer Relation, Continuous Improvement).
"datakili is able to process a huge volume of interactions, including all kinds of channels (online or offline) and a multitude of reasons." states Benoît Laurent, Director of Performance and Continuous Improvement for Total Direct Energie.
Total Direct Energie is a French provider and producer of electricity and gaz.
datakili is the omnichannel customer journey visualization, analysis and monitoring solution.
Data Festival rewards the best Datamarketing & Dataperformance projects and technologies.
Contact : Johan Evrard – Product Manager datakili – johan@datakili.com – 01 81 69 75 26