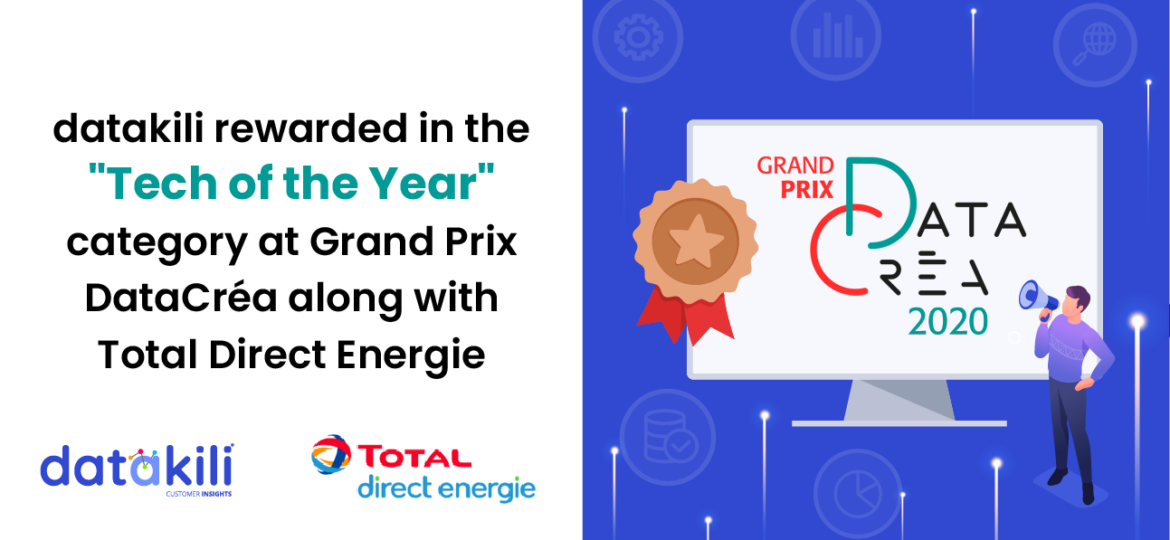 datakili was rewarded in the "Tech of the Year" category at Grand Prix DataCréa along with Total Direct Energie
datakili and its client Total Direct Energie are the bronze-prize winners in Data & Créativité's "Tech of the Year" category. This category rewards new technologies that help face the modern and upcoming marketing challenges (data visualization, data mining, predictivie analytics, hyper-personalization, …). The jury was particularly sensitive to the simple powerful omnichannel customer journey interface which gives Total Direct Energie the opportunity to analyze more than 5 million cross-channel journeys done by their 4 million B2B customers. They also highlighted the operational efficiency of datakili's AI, which enables to daily predict and drive successful or riskful journeys, in order to enhance customer experience.
This is the 5th prize won by datakili in less than 3 years. After Nuit des Rois, Data Festival and Big Data & IA, Data & Créativité also confirms and establishes datakili as one of the best solutions in the Martech landscape.
This public recognition by a wide variety of juries goes hand in hand with the continued adoption of the solution since its creation late 2018 by many clients in the Banking & Insurance, TelCo, Utilities, Retail, Leisure or Travel. With strong revenue increase and cost-saving opportunities, datakili demonstrates an undeniable leadership in these markets and proves the efficiency of a large-scale data-driven approach for customer journey monitoring.
datakili is the omnichannel solution to visualize, analyze and drive customer journeys.
Data & Créativé rewards the most relevant customer experience/relationship solutions and communication campaigns in which creativity and efficiency are boosted by data. This prize is supported by all the leading professional associations in the sector: AAC, le Club des Directeurs Artistiques, CPA, IAB, Turing Club, UDECAM, l'Union des Marques