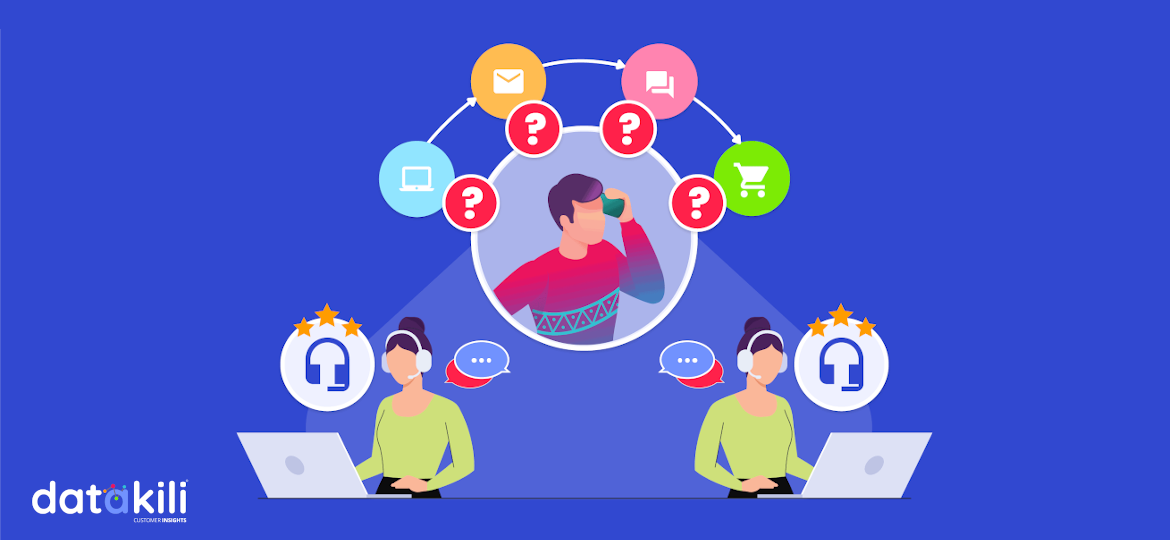 Avoid repeat calls, cut costs

,

and

improve

customer satisfaction!
Many customers try multiple times to reach customer service by phone, whether they are in search for a personalized relation with an advisor, or simply to express their unsatisfaction after a bad experience.
Although companies are making efforts to propose new contact channels and improve their customers' experience, people remain attached to telephone. Lately, many practices have however been completely digitized, such as 100% online self-care journeys, dematerialization of various moments in the customer's life (e.g., vendor invoices), or even "pure player" businesses that do not propose any physical locations to meet their clients. 
But according to Gartner, only 9% of customers admit that they are able to completely solve a problem on their own. Even if the diversity of channels and options has simplified the access to customer service, journeys become very complicated to monitor, and companies must eventually manage costlier interactions. 
Worse, when self-care solutions fail to meet their needs, customers largely tend to "fall back" to call centers to reach an advisor… multiple times! 
Prioritizing repeat calls' use cases in your company can therefore provide important benefits such as: 
Impact on the customer relationship

because repeat calls

are often originating from pain points that must be cleared

out

from your journeys to:

Improve

customer

satisfaction

 

Reduce churn

(

which

obviously remains very costly

)

 

Cost reduction impact

t

hanks to

savings on

inbound calls' management

and improved cost-to-serve

Impact on turnover

with

the combined contribution of the two previous point
Now that we are all convinced that addressing this use case could generate actual positive outcomes, which approach should be adopted to avoid repeat calls?  Journeys have become more omnichannel than ever. This means that customers often make calls while using another channel (e.g.: customers calling to ask a question while filling an online form). How "trigger interactions" – and the channels associated with them – can be identified? 
Get the full picture thanks to macro indicators
At first, watching overall indicators about calls and repeat calls can help get an interesting situational analysis.
How many calls were made

during

a given period? 

Are there noticeable call peaks

at specific time

s

? For example, following a commercial action

across

a channel?

Which channels

interact

the most with phone call

s

? 

S

ome of our clients have observed that

text

chatting with an advisor

could

actually

generate

many repeat calls

(up to 20% of the time)

.

 

What is the re

peat

call rate? This can be measured from different

points of view

. For

instance

,

it

can correspond to the number of

calls that occurred within one to several days after the

fir

st call. 

But i

t is also possible to study the rate of successive calls, with a repetition of 3 or 4 calls for example, to

assess

the

share

of

customers

calling multiple times

.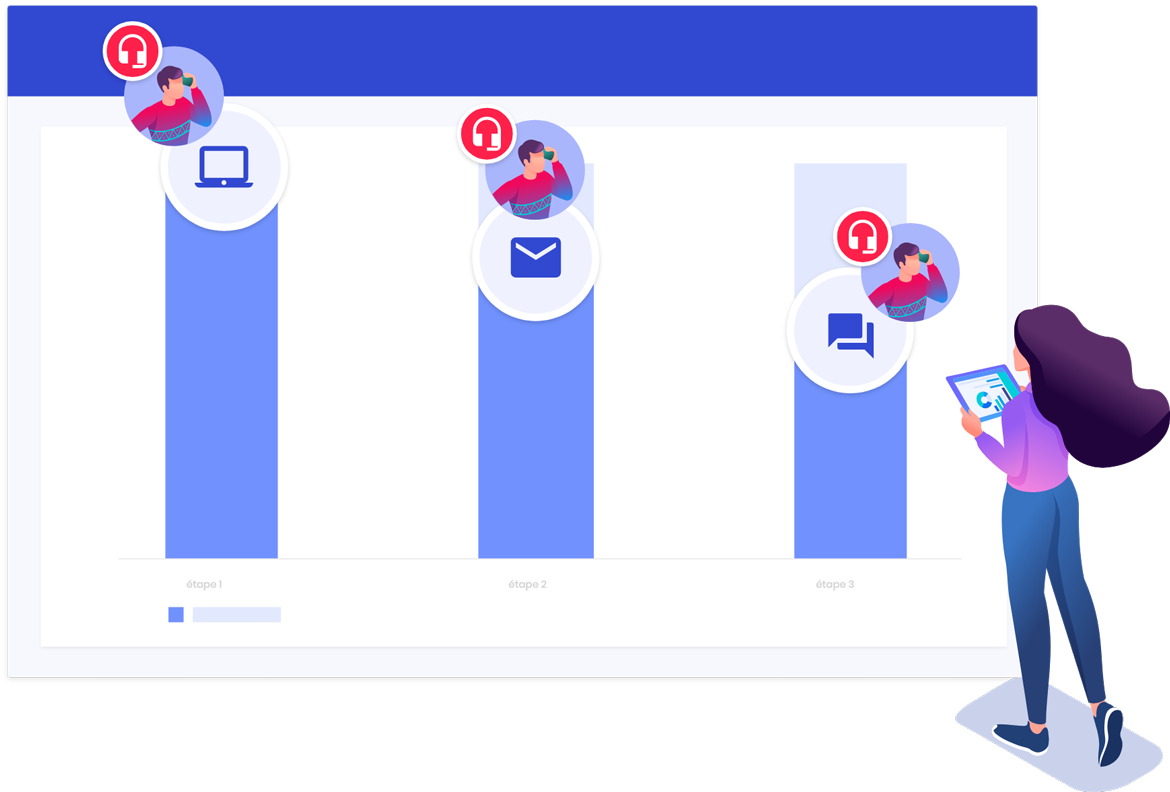 Focus on repeat calls j
ourneys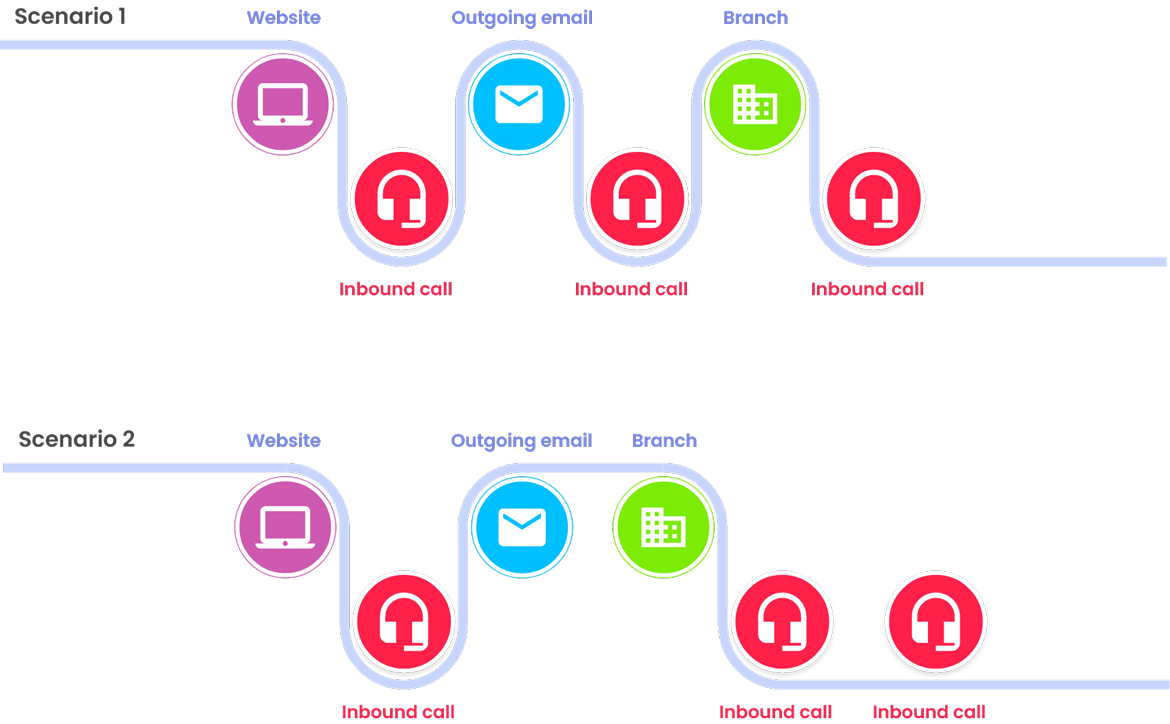 Let's start by spotting the key touch points before and after repeat calls. A mapping of customer journeys, centered on a sequence of calls, is often the best way to reveal triggers. 
Indeed, customers who make multiple calls to the contact center may have experienced points of friction within a period more or less close to the repeat calls. In the same way, actions that follow a series of calls can also become interesting food for thought: for example, what do satisfaction surveys show at the end of calls? Several repeat calls, for a particular reason, may have annoyed customers and generated claims or, in the worst case, contract terminations. 
At the same time, journey mapping also enables to find out whether the series of calls is part of a multi-channel journey. Several scenarios can then be identified; for instance, 2 calls which would follow an incoming request by e-mail or a visit to an agency, or even repeat calls by customers who were experiencing a self-care journey on the website. 
Eventually, to optimize the management of inbound calls, some companies automatically redirect customers to selfcare solutions (deflection). This practice can significantly decrease the number of incoming calls. However, some customers do not wish to experience this situation because their need might be more complex than it seems or bound to a very specific request. These customers must therefore be singled out to: 
understand their needs and optimize the corresponding self-care journeys

 

prioritize

inbound

calls

for those

who do not do well with deflection
Detect and measure repeat c

all triggers
Next step consists in identifying the customer interactions within the journeys that most often lead to a repeat call. With our own customers, we often notice that specific moments in life have a greater impact on repeat calls (e.g., invoicing, certification requests, house moving or even retirement). 
Once these "trigger interactions" have been identified, a ranking of the main causes for both first and repeat calls can be established. For example, you could observe that requests for invoice explanation appear to be the main call trigger for your customers, while repeat calls are more the result of technical problems. Comparing the ranking of triggers for first and repeat calls will help prioritize subjects that generate an important number of calls. The "first-call resolution" indicator could thus be improved thanks to the implementation of processes to better respond to customers during their first call, or by proposing alternate solutions to avoid repeat calls. 

Drive your call management s

trategy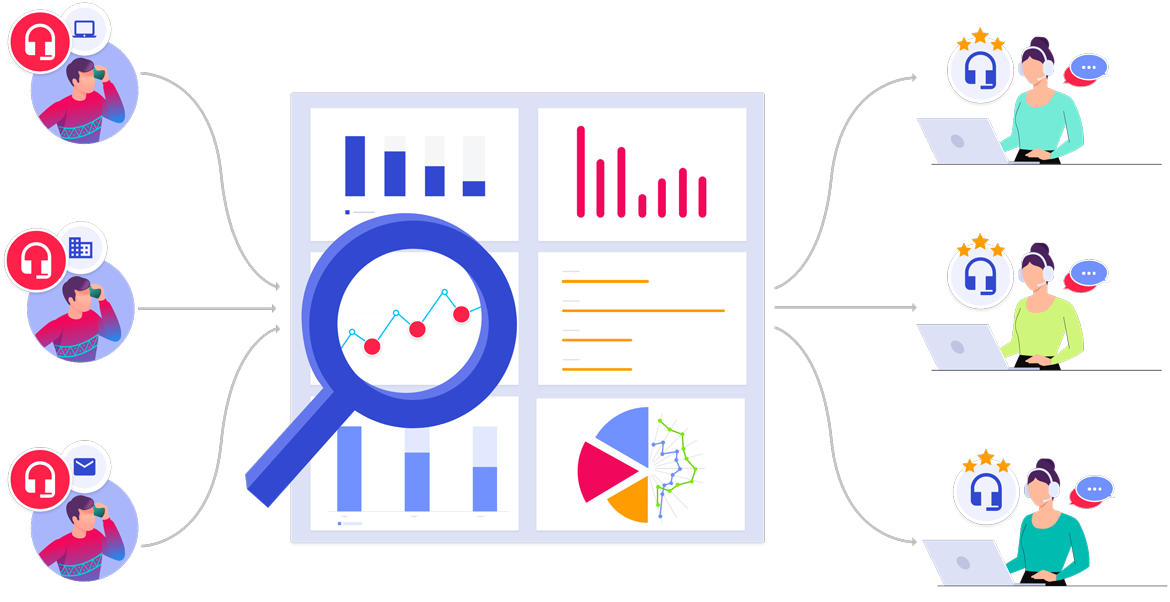 Finally, we will also focus on the management of customer calls. If they are often placed under the responsibility of an internal service, inbound calls can also be taken care of by multiple external service providers. Watching repeat calls rates according to these service providers enables to keep control over outsourced expenses and consider internal reallocations of resources. 
In addition, with some of our customers, we have noticed that calls' subjects are handled more or less efficiently depending on the internal department or external service responsible for them. The idea here consists in driving the call center's strategy by redirecting customer calls to the right service provider based on their expertise. 
You can then set up a monitoring of the omnichannel repeat calls sequences according to the assessed parameters (triggers, service providers, etc.) to measure the impact of the implemented actions and optimize your processes. 
In conclusion, as customer behaviors keep on evolving, companies must constantly deal with changes and adapt to them. New sequences of repeat calls will necessarily emerge, with their own triggers, from new channels or following a modification of context. The approach that we have just presented to you will then help respond to these unsuspected variations, by being part of continuous improvement processes that must rely on figures to make appropriate decisions. 
This also explains why many of our customers are already using our solution to analyze repeat calls sequences in an omnichannel context. Indeed, we also help them monitor their transformations over time. 
If you are interested by a demo of Datakili, please fill in the form at the bottom of the page.